Living in the historic Elizabeth neighborhood of Charlotte, NC, is like stepping into a history book. This
North Carolina neighborhood
exhibits an exquisite array of architecture, and the styles of its residential properties span from the 19th century to the modern. Many of the homes in Elizabeth, Charlotte, have earned a place on the National Register of Historic Places, the official list of the U.S.'s historic places worthy of preservation. If architecture and history speak to you, you must check out some of the homes making up this neighborhood, along with the architectural styles that make them so unique.
We'll discuss six architectural home styles you might see when searching for Elizabeth, NC, real estate. Let's get started!
Tudor Revival
Tudor Revival identifies with the architecture of the Tudor Period, which took place during the dynasty of the House of Tudor in England from 1486 to 1603. As timber-frame buildings were popular during this period, the revival brings back this tradition, but the designs themselves aren't closely inspired by the building elements of this period. Instead, Tudor Revivalism draws inspiration from various late medieval English buildings still present during the Tudor dynasty.
This style is very ornate, and the visual elements include half-timbered wall surfaces, often with stucco or masonry veneer. Steeply pitched roofs with cross-gabled plans are also a distinguishing feature.
The popularity of the Tudor Revival soared during the 1920s in suburban areas, and the Elizabeth neighborhood in Charlotte was no exception.
Queen Anne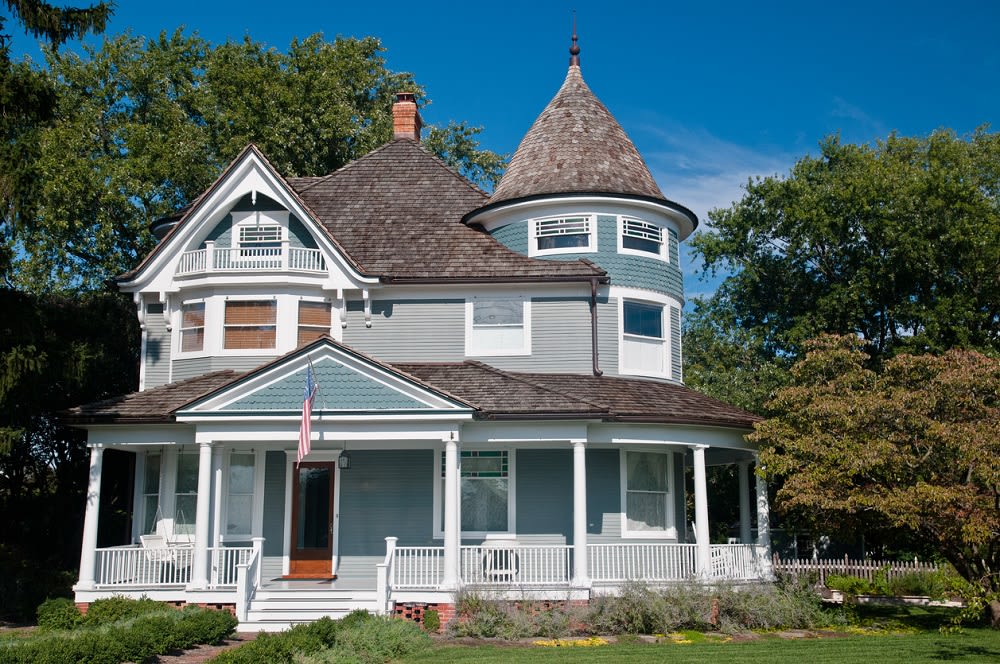 Photo Courtesy of City of Pasadena
Queen Anne architecture had its peak in the United States in the late 1800s and early 1900s. The style can be traced back to the designs of British architect Richard Norman Shaw. Despite its name, it describes architecture derived from the Elizabethan and Jacobean eras (which occurred years before Queen Anne's reign).
The Queen Anne style first made its way to America via H.H. Richardson when he designed the
Watts-Sherman house
in Rhode Island in 1874. Since then, this architectural style has spread in popularity up and down the East Coast.
The ornate Queen Anne architecture is typically found in detached, wooden homes with decorative carved shapes and intricate patterns. Single-story wrap-around porches framed by decorative columns are also a trademark of the Queen Anne style. You may even find a second-story porch, but this was often reserved for urban areas. Towers, turrets, and dramatic roofing visuals are also common elements of this design.
This architectural style is represented in Elizabeth, Charlotte, NC. The
Reverend George H. Detwiler House
is a notable example of Queen Anne architecture in this neighborhood.
Craftsman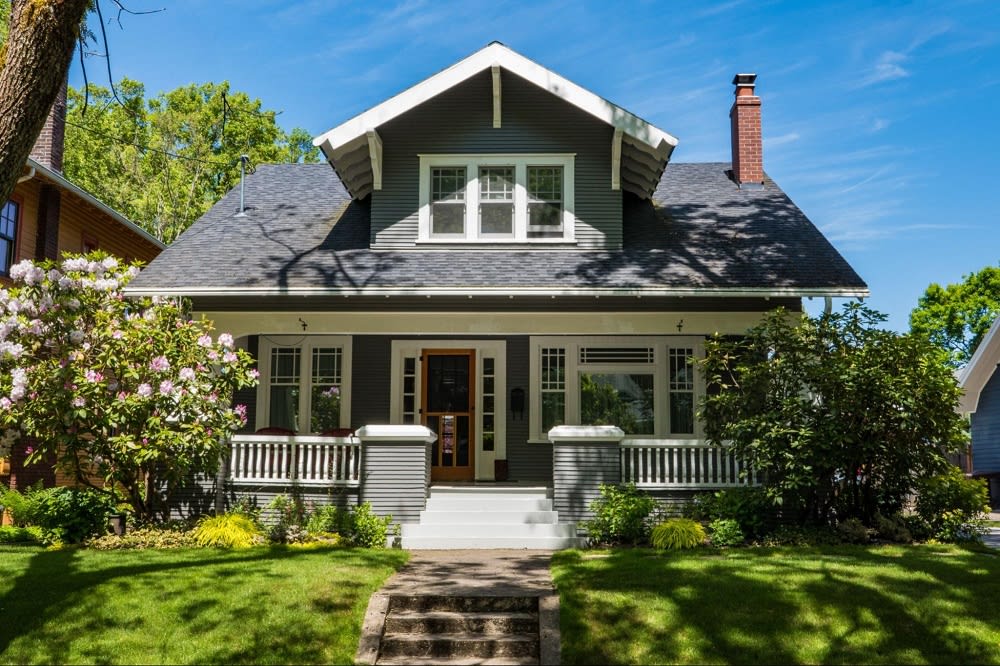 The Craftsman style grew in popularity in the early 20th century when furniture maker
Gustav Stickley
brought it to the mainstream with his influential magazine,
Craftsman
. This design style emphasized the use of local materials and straightforward construction.
A simplistic, foursquare design is a hallmark of the Craftsman style. Craftsman home exteriors are typically painted wood with stone accents and an overall emphasis on horizontal lines. You will also find an over-extended low-pitched roof with exposed beams framing large, spacious porches in a Craftsman-style home.
This architectural concept became a popular style in Elizabeth in the early 1900s. You can find several examples of Craftsman architecture throughout Elizabeth, NC, real estate.
Many of the Craftsman homes found in this neighborhood come in the form of bungalows. The bungalow is a particular house form adapted from structures in India; these homes typically have low rooflines, central living spaces, and wrap-around verandahs. One fine example of a bungalow-style mansion with historical significance is the
John Baxter Alexander House
.
Colonial Revival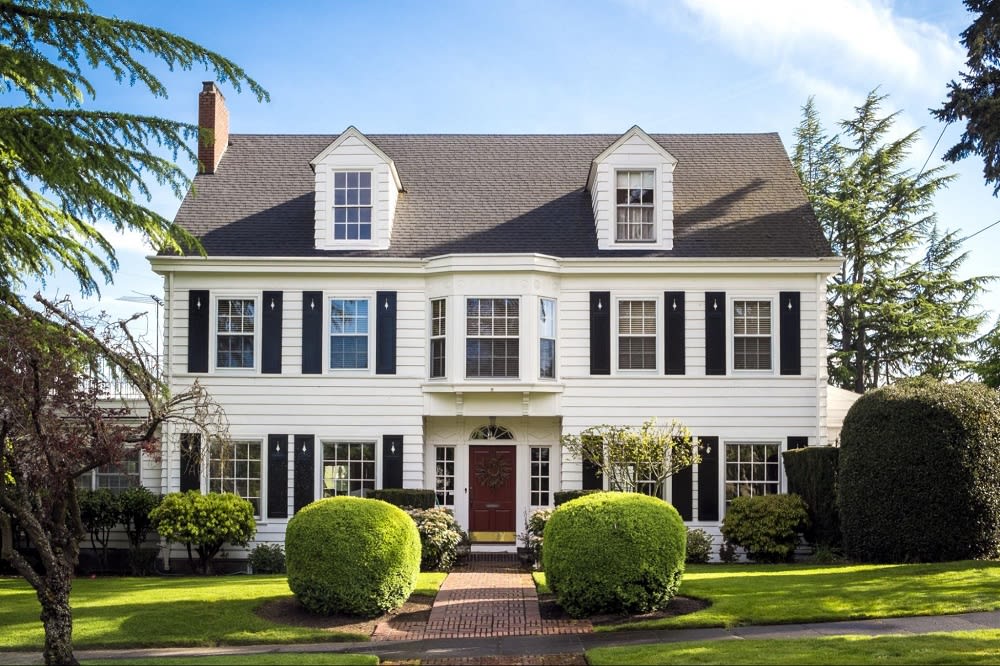 Colonial Revival is essentially a mixture of architectural styles that emerged in the late 19th century representing a fascination with early American homes built by Dutch and English settlers. This style also peaked during the late 1800s and early 1900s.
Its earliest examples were designed by professional architects and built with durable materials. However, a group of "Neo-Colonists" began constructing this home style in the mid-1900s in suburban areas with more cost-effective materials.
Many Colonial Revival homes feature brick or brick veneer exteriors with gable roofs and simple windows. In Neo-Colonial styles, you will most likely find larger windows with multi-pane sashes, used to save on costs.
One of Charlotte's best-known architects, C. C. Hook, designed or inspired many of the Colonial Revival-style homes in the city. One stunning example of these homes, located in the Elizabeth neighborhood, is the
William Henry Belk home
, designed using a mixture of Colonial Revival and Classical Revival styles.
Spanish Colonial Revival
True to their name, Spanish Colonial homes were first built in those parts of America colonized by Spaniards. These homes are quite similar to those found in Spain at the time, mainly because the Spanish tended to settle in areas with similar climates to their homeland. The Spanish Colonial Revival style draws inspiration from these homes. Distinguishing features of these houses include blocky asymmetry, red-tiled roofs, and a courtyard, which is often enclosed by the home itself or created using space left by the home's design (this is why many Spanish Colonial Revival homes are L-shaped). Half-round arches are often incorporated into the design, as are iron and tile.
Charlotte experienced the introduction of Spanish Colonial Revivalism in the 1920s. The style had already grabbed hold of Florida, and from there, it spread up the East coast.
Only a handful of Spanish Colonial Revival-style homes remain in Charlotte, including the Elizabeth neighborhood.
Anxious to secure a home for sale in Elizabeth?
Nowadays, the homes encompassing these historical styles sit alongside various new builds, from lavish townhomes to traditionally-designed homes with contemporary features. This diversity in architecture, and the taste of history that comes with it, is just one factor that makes the Elizabeth neighborhood so charming.
Do you need help on your search for Elizabeth NC real estate? Contact
The Eric Layne Group
to speak with a knowledgeable real estate agent. Our seasoned professionals can help you navigate the home buying process and find your dream home in Charlotte, North Carolina.