Community Matters Cafe
Everyone needs a dependable cafe to enjoy a tasty breakfast, lunch, or to-go coffee. Community Matters Cafe is precisely that. This cafe is more than a breakfast and lunch spot; it is an extension program of Charlotte Rescue Mission, an addiction recovery program. The Life Skills Program allows graduates to gain work experience and aids them in re-establishing themselves in society. In addition to the integral community involvement of the cafe, they serve some fantastic fares.

Rise and shine to an indulgent plate of sugar-crusted French toast or a hearty dish of pulled pork johnnycakes. Pair your breakfast with a classic pour-over coffee or a sweet cinnamon bun mocha. For lunch, order a Cuban sandwich or refreshing summer corn salad and a strong cold brew coffee. If you need to start your day, head to Community Matters Cafe, where you'll support your neighborhood in more ways than one.
Alexander Michael's
Open for lunch and dinner Tuesday through Saturday, Alexander Michael's is a no-nonsense, classic American pub. In 1897, the location was initially established as "The Berryhill Store." In 1983, A. Michael Troiano Jr. and Alexander Copeland III renovated the building and opened the tavern known today as Alexander Michael's. Stop by for lunch to enjoy a classic BLT, or try their homemade quinoa black bean vegetable burger, prepared with quinoa, several veggies, a hint of chipotle for a kick, avocado, and feta cheese, all served atop grilled pita bread.

Start your casual dinner with friends with some fried pickles and honey garlic BBQ wings for the table. Follow up the appetizers with some blackened catfish tacos, and wash it down with a Birdsong Brewing Co. Lazy Bird Brown Ale pint. There are plenty of craft and local beers on tap, along with several domestics, imports, wines, and spirits to choose from. Grab some friends, and head to Alexander Michael's for a night filled with eats, libations, and laughter!
Pinky's Westside Grill
Locals love Pinky's Westside Grill, and it's not just because Guy Fieri featured this eatery on his show Diners, Drive-Ins, and Dives more than once! Pinky's menu is filled with classic American dishes prepared superbly. Hushpuppies are a favorite among many, and the crab puppies made with claw crab meat do not disappoint. For a lighter option, go for the ginger tuna salad, prepared with a ginger/wasabi mayo-dressed scoop of albacore, mixed greens, tomato, red onion, celery, and carrots. Fulfill your red meat craving with the award-winning pterodactyl beef burger.

There are plenty of burgers, sandwiches, salads, and hotdogs on the menu, but that's not all. The drink menu features weekly specials, craft cocktails, margaritas, a few wines, and Pinky's classics. Head to Pinky's Westside Grill for a white gummy bear and a juicy burger over lunch with friends.
Cicchetti
Cicchetti is a chic wine bar and wine shop in Uptown Charlotte, offering authentic Italian small plates. These dishes represent Venice's version of tapas. The small plates menu goes on and on, assuring every guest will find an option to appease their tastes. The polpette (meatballs) menu includes beef, crab, and pork, each with its special preparation. The bruschetta bar has eight delectable choices, including the light artichoke salad, served with fresh mint, asiago, and lemon. Once your table has had its fill of meatballs and crostini, move on to the seafood tins and chips plates, or opt for an entree or two.

You're probably pretty full at this point, but don't forget to save room for dessert! Sweets and espresso are in full force here. Donuts, sorbet, biscotti, gelato, and chocolates handcrafted by the Secret Chocolatier are in tow. The cocktail menu is vast and varied, featuring gin cocktails, tequila drinks, sparkling wine, decadent red wine - you name it. When seeking a post-work spot to share savory small bites and several rounds of drinks with friends, look no further than Cicchetti.
MOA Korean BBQ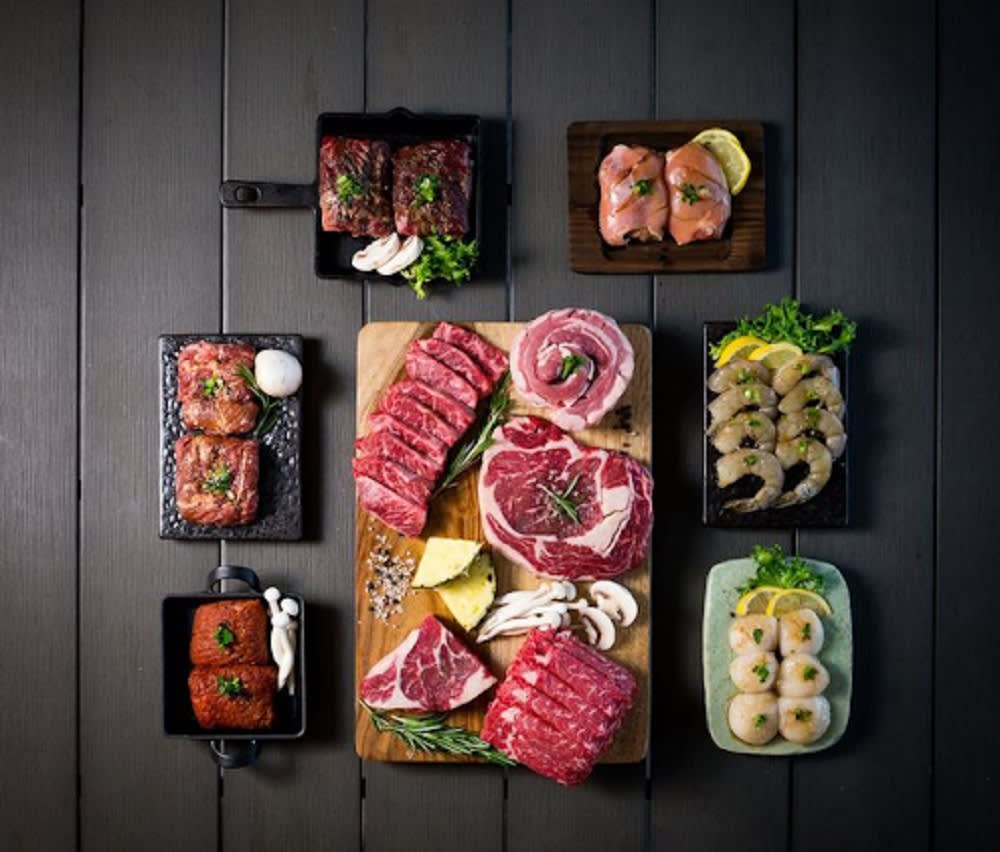 Credit: MOA Korean BBQ
If you enjoy flavorful, marinated meat that's been grilled to perfection, head to MOA Korean BBQ. This upscale Korean barbecue restaurant continues the indulgent tradition that dates back to over 2000 years ago, serving delicious, high-quality cuts of meat, appetizers, banchan (sides), and more. Snag a few appetizers for the table, like Korean dumplings and a fresh and tasty Korean beef tartare. Order an array of banchan to eat along with fabulous meats, such as traditional kimchi, steamed egg, scallion salad, and Korean potato salad.

Once all your sides are in order, you can choose a combo that suits your group's needs or opt to get some a la carte barbecue dishes. Some fantastic choices include prime ribeye steak, thin-sliced pork belly, marinated shrimp, and the grilled vegetable platter. Top the night off with some yuzu citrus cake or a green tea souffle cheesecake, and you've got yourself a perfect Korean barbecue meal under your belt.
The Cellar at Duckworth's
A seamless combination of chef-driven gastropub fare and an extensive list of beers and craft cocktails makes The Cellar at Duckworth's a worthy dining destination. Dishes are prepared with exceptional ingredients obtained from local farms. Start your meal with a lovely cheese and charcuterie plate, some candied jalapeno bacon, and pork steam buns. The small plates menu has many delectable choices fit for sharing. If you need something substantial, check out the large plates options, including crispy skin Scottish salmon, tomahawk bone-in ribeyes, and grilled shrimp & old mill cheddar grits.

Your meal wouldn't be complete without a signature cocktail, so try the smoked whiskey sour, cellar smash, or blackberry mezcal. Finish dinner on a sweet note. The tres leches cake, Nutella cheesecake, and campfire almond s'more are all exceptional choices. Whatever dishes and cocktails you decide to order, you'll undoubtedly have a memorable dining experience at The Cellar at Duckworth's.
Fin & Fino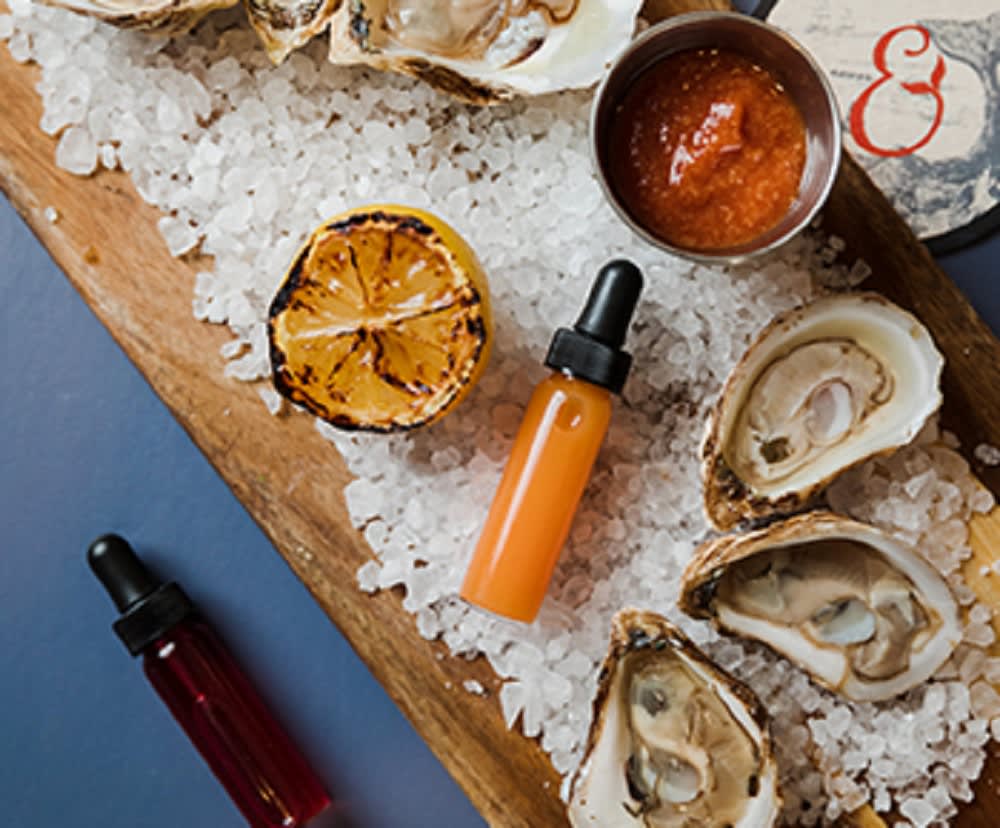 Credit: Fin & Fino
If your heart desires a fresh seafood dinner from a restaurant that commits to sustainably caught provisions, look no further than Fin & Fino. Oyster lovers rejoice! Fin & Fino boasts 12 types of oysters. For a fresh and marine-centric meal, share the penthouse combination from the raw bar with your sweetheart, served with 16 oysters, 14 North Carolina shrimp, 16 mussels, a snow crab cluster, and six ounces of lobster and shrimp salad.

The dinner menu changes often and can include bay scallop ceviche and grilled octopus served with house sausage, pickled fennel, calasparra rice pilaf, and almond romesco. If you enjoy elevated fish dishes in a comfortable atmosphere, Fin & Fino is the perfect place!
The Capital Grille
Enjoy an upscale business lunch or a lavish dinner with your sweetheart at The Capital Grille. The perfect meal begins with lobster and crab cakes or a cold shellfish platter, teeming with lobster, shrimp cocktail, and oysters. Warm up with some lobster bisque or caramelized French onion soup, followed by a substantial 22-ounce bone-in ribeye. The pan-seared sea bass with miso butter, shiitake mushrooms, and asparagus will have your taste buds singing, and getting some au gratin potatoes and soy-glazed brussels sprouts with bacon for the table is always a good choice.

Close the meal with a glass of rosé and a classic crème brulée, and you and your love will be praising The Capital Grille for years to come. Featuring dry-aged steaks, seafood, and over 325 new and old-world wines, you're bound to have an unforgettable dining experience.
McNinch House Restaurant
A Queen Anne-style home turned restaurant, McNinch House Restaurant offers patrons high-end continental cuisine in a refined and beautiful location. Opening courses include jumbo lump crab cakes served with Louisiana-style remoulade and a farm-fresh salad made with frisee, split peas, herbed vinaigrette, pickled onion, and watermelon radish, quail egg, and crispy pulled bacon.

A classic dish prepared with a twist, the pan-seared scallops are served with vegetables and lemon caper beurre blanc. If you enjoy a good pasta, the cheese and vegetable tortellini is an excellent option, while meat lovers can relish the veal tenderloin. Opt for one of the four wine pairings, where each plate will be served with a hand-picked wine to match. Plan your next anniversary, birthday, or private event with McNinch House Restaurant.
Chima Steakhouse
The beloved Chima Steakhouse features grilled meat sliced fresh off the skewer plus a generous salad bar. The peach pomegranate frisee salad or eggplant salad are excellent palate cleansers before the meat-eating begins. If you want to keep the meal strictly carnivore, start with a serving of beef carpaccio, sliced thin and prepared with capers, parmesan, and mustard sauce. Once you've got some vegetables in your system, the real fun begins.

Try the signature cut CAB picanha steak, baby top sirloin with garlic sauce, and the tender bacon-wrapped filet. There are many savory protein options to choose from, and you can try them all if you wish! The choice of how much of each dish you sample is entirely up to you! In addition to the stunning vegetables and sumptuous meats, there are several desserts to try. If you enjoy trying a variety of salads and meats prepared to your liking, head to Chima Steakhouse.
Are you ready to start a new life for your family in North Carolina? Contact realtor Eric Layne for all your North Carolina real estate needs. Whether you seek Myers Park, Dilworth, or Elizabeth City real estate, Eric will guide you each step of the way.