Dilworth is one of the most desirable neighborhoods in the Charlotte area. It is far more walkable than the typical American suburb and has plenty of independent shops to give it a unique charm, but it's still calm and quiet enough to be an ideal place to raise a family.


While calm and quiet, Dilworth is far from boring. It is quite easy to plan a fun-filled day without traveling to downtown Charlotte. Here are our favorite ways to spend a whole day in Charlotte's first streetcar suburb.
Enjoy a full day in Dilworth
Mornings
Little Sugar Creek Greenway
The
Little Sugar Creek Greenway
is a perfect location to get in your morning jog. Located on the southern end of Dilworth, the Little Sugar Creek Greenway is a major investment project that will provide 19 miles of trails and land connectors that span from Charlotte all the way to the South Carolina state line. While not fully completed, large portions of the greenway are finished and are currently open to the public. The goal of city planners is to make the greenway reminiscent of San Antonio's river walk.
The Little Sugar Creek Greenway provides everything you'd expect from a world-class green space. There are plenty of trails for jogging and cycling, areas for quiet reflection, and designated areas for socialization and businesses.


The Greenway provides residents with an excellent way to connect with nature. During the area's development, fish have returned to the creek they once abandoned due to pollution. Additionally, greenway visitors can expect to see spiny softshell turtles, herons, and ducks. Creative Loafing Charlotte nominated the greenway as "The Best Place to Get Back to Nature." Whether you are looking for a morning jog or evening stroll, the Little Sugar Creek Greenway is an excellent location.

Sunflower Baking Company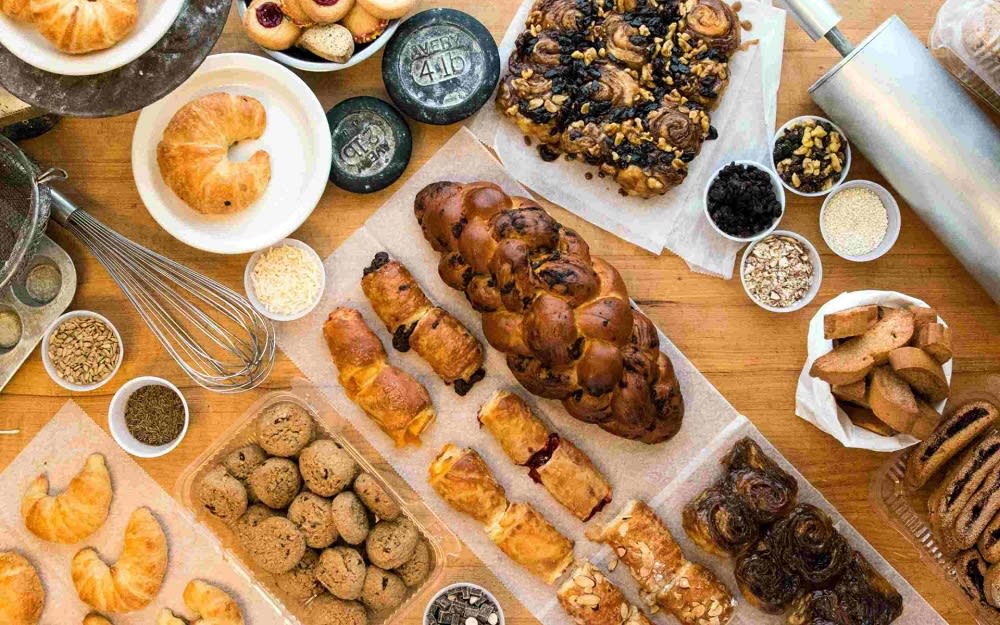 Photo Courtesy of Uber Eats
The
Sunflower Baking Company
has four locations across the Charlotte area, including a Dilworth location that opened in 2016. The bakery is best known for its cake jars which are shipped all across the country.
The actual bakery is located in a charming location on East Boulevard. When the weather is nice, there is no better place than the outdoor patio. The patio is shaded with large trees in the summertime, providing an excellent spot to people-watch while sipping your morning coffee. All the pastries and breads are made entirely from scratch, ensuring an excellent experience any time you visit.

Not Just Coffee
If you're on the southern side of Dilworth, we recommend getting your morning brew at
Not Just Coffee
. While you can easily get a simple drip pour at Not Just Coffee, it is the premier destination for coffee lovers. The coffee shop prides itself on its highly trained baristas, who can talk at length about the finer points of the beloved espresso bean. If that's not enough, Not Just Coffee also hosts classes and tastings.
As its name suggests, Not Just Coffee offers more than the famous caffeinated beverage. Patrons can find pastries, sandwiches, and unique handcrafted toast options topped with more than just avocado.

Paper Skyscraper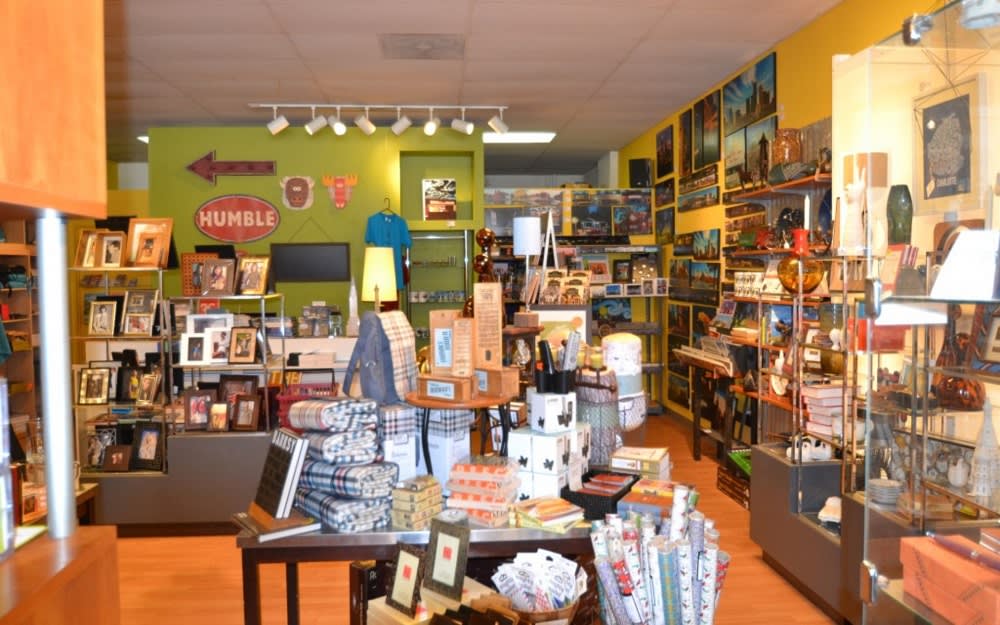 Photo Courtesy of Charlotte's got a lot
After you've had your morning coffee, it might be time to get a little shopping in.
Paper Skyscraper
is one of the most unique gift shops you'll find in Dilworth. Everything in the store was carefully picked for uniqueness. Shoppers can expect to find a Snoop Dog fridge magnet, barbecue dry rub, and aged buttermilk. It is easy to spend hours browsing the shelves in Paper Skyscraper.
The store has been in Dilworth for over 30 years and has expanded to a 5,000-square-foot location. It is a popular spot for both local creatives and travelers who want to see the best of what Charlotte has to offer. If you are looking for a truly unique gift or souvenir, Paper Skyscraper provides far more than you'd expect from a typical gift shop.
Afternoons
Freedom Park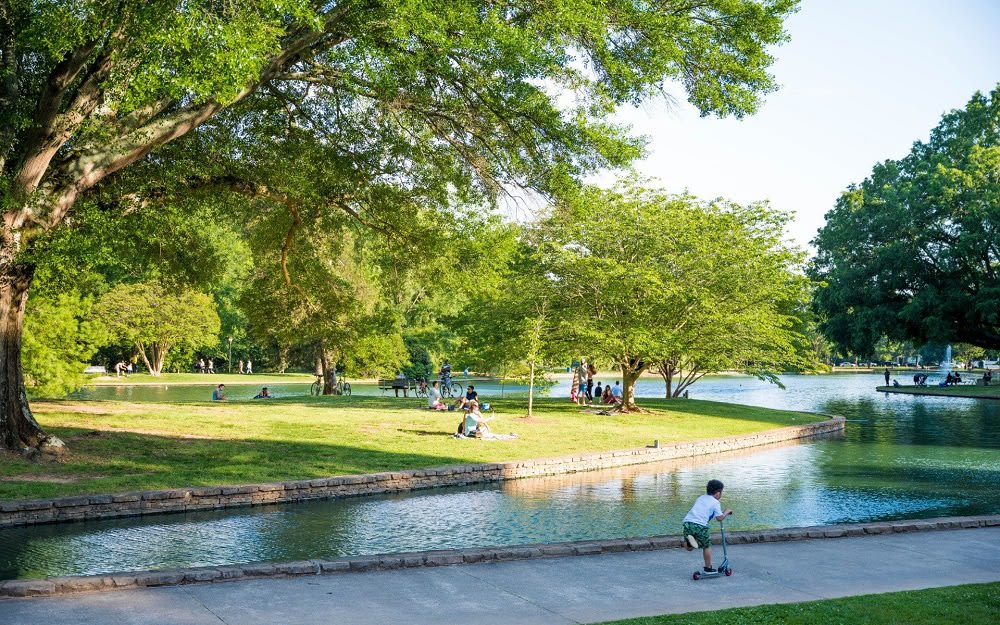 Photo Courtesy of Charlotte's got a lot
While technically not in Dilworth,
Freedom Park
is located directly on the border of Dilworth and the Myers Park neighborhood. In any case, it is an excellent location for an afternoon stroll or daily exercise. The 98-acre park includes a 7-acre lake that attracts ducks and herons. Freedom Park has countless trails for walking, jogging, and dog walking. Additionally, the park provides several tennis courts, volleyball courts, and other athletic fields. It is a popular spot for fitness enthusiasts in the area.
Every September, the park hosts a five-day event called Festival in the Park. It is a festive community event where local merchants and artists provide multiple days of entertainment and shopping. Festival in the Park attracts 80,000 visitors, 180 merchants, and over 1,000 live entertainers. The festival is primarily managed by volunteers and funded by donations, making it free to attend every year.

Kid Cashew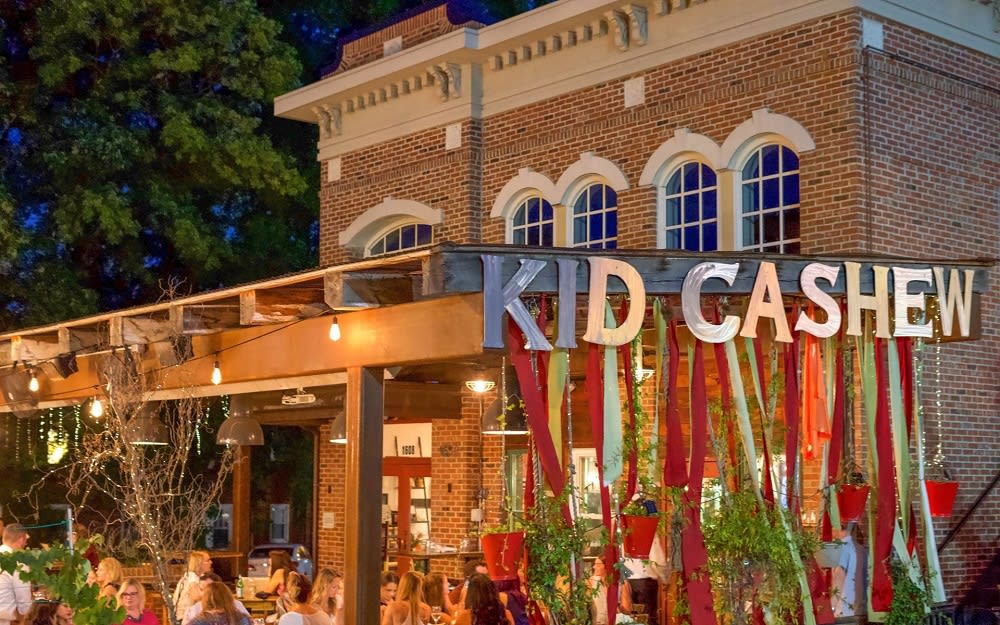 While Southern food is known for being delicious, it isn't often considered healthy.
Kid Cashew
is changing that reputation by fusing Southern culinary traditions with healthy eating. If someone in your party is craving something more hearty and not-so-healthy, Kid Cashew does have an excellent Cast Iron Mac & 5 Cheeses that is impeccable.
In addition to having a tasty and diverse menu, Kid Cashew has an excellent location on East Boulevard, with one of the most charming patios you'll find in town. With a wood frame covering that pairs nicely with the red brick building, Kid Cashew is one of the best places for dining al fresco.

The Mayobird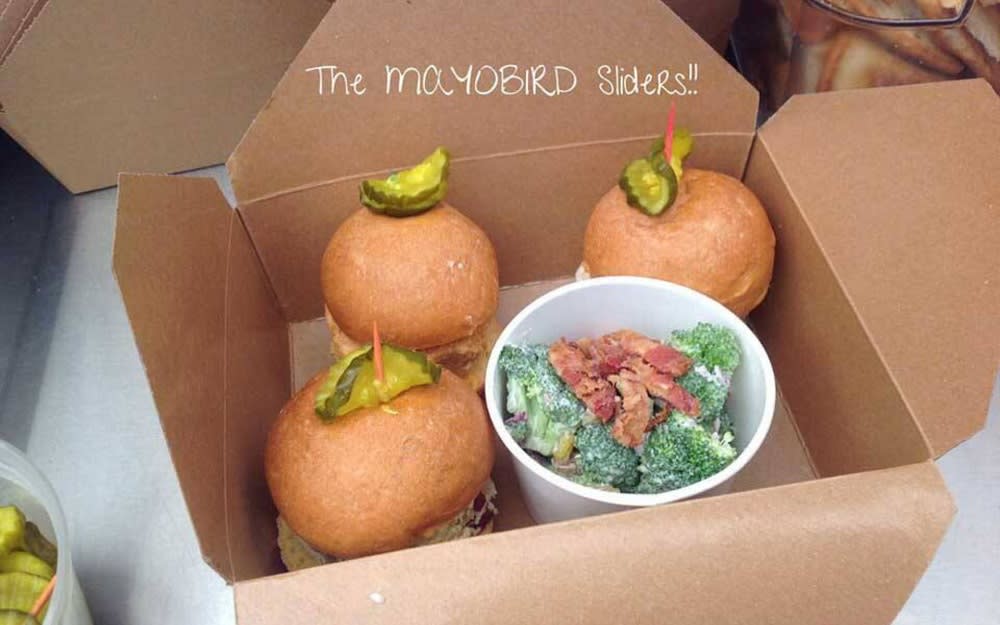 If you are looking for a more traditional Southern lunch, you can't go wrong with
The Mayobird
. The Mayobird only serves chicken salads. The restaurant was founded by North Carolina native Deedee Mills. When Mills was studying at UNC at Chapel Hill, she would often experiment with ways to make the tastiest chicken salad. From that, her business was born.
She now owns two locations, including one in Dilworth. While the menu only offers different takes on chicken salad, some appealing options fuse traditional Southern chicken salad with exotic flavors. The Big Bird salad with curry is a prime example. No matter which salad you order, you can trust that it was made with Duke's Mayonnaise.
Evenings
Dilworth Tasting Room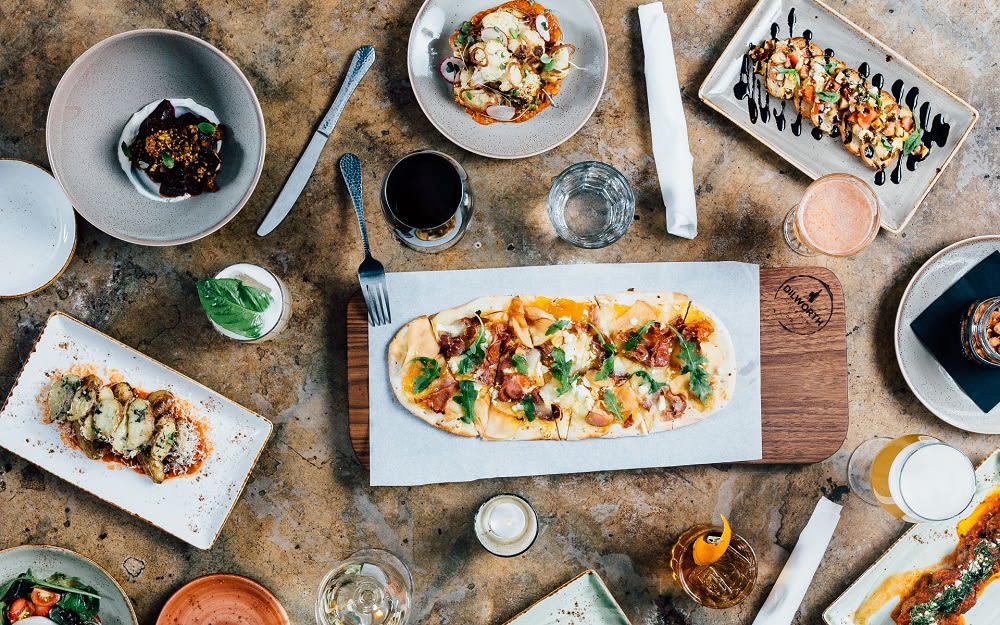 Photo Courtesy of Conde Nast Travel
If you're craving a libation after a fun day in Dilworth, it's tough to beat the
Dilworth Tasting Room
(also called DTR). While the Dilworth Tasting Room is well-known for having amazing weekend brunches, its nighttime cocktail hour shouldn't be overlooked.
DTR has an impressive wine list, but its real claim to fame is the handcrafted cocktails. The restaurant is frequently featured in local media for shaking up some of the most beautiful cocktails you'll find outside of New York City. The Dilworth Tasting Room has countless cocktails that are so artistically crafted they would make an Instagram influencer jealous.

Bakersfield
No American neighborhood is complete without at least one independent Mexican restaurant. In Dilworth, that place is
Bakersfield
. The menu leans notably more Mexicali rather than Tex-Mex, meaning most of the tacos you order will be of the soft shell variety. Additionally, you'll find plenty of fish tacos on the menu.
Every day is Cinco de Mayo at Bakersfield — they proudly offer over 100 different tequila brands. While many Mexican restaurants try to lean into Taco Tuesdays, Bakersfield is more fond of margarita Mondays.
Ed's Tavern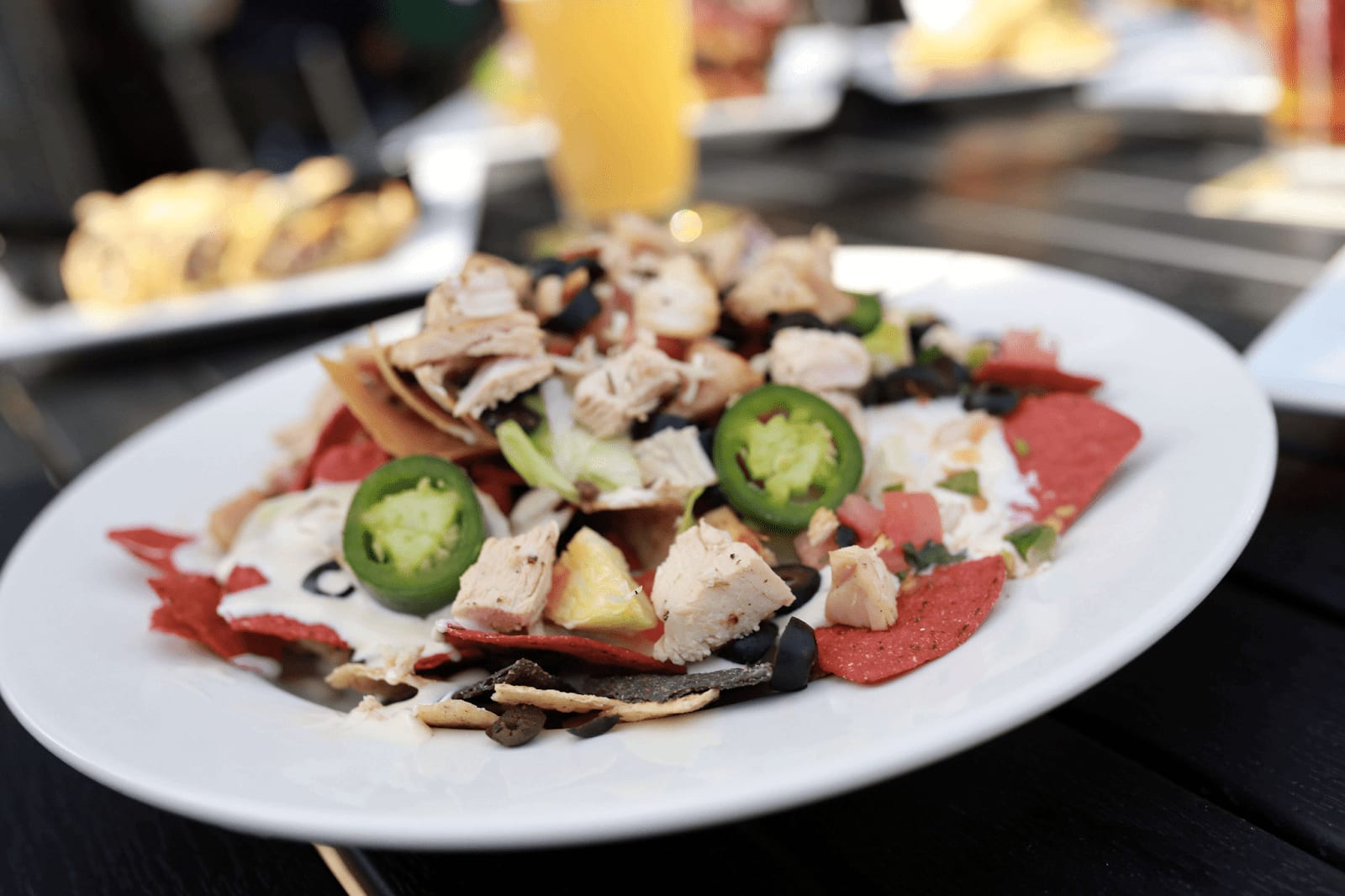 Voted Charlotte's best neighborhood bar, Ed's Tavern is a Dilworth staple. Coined as "Where new friends meet," the eatery offers a variety of settings for all moods, along with ample TVs and a broad craft beer selection. Its Wednesday and Thursday night trivia has been voted the best for eight years in a row, and they recently added a patio with a covered bar.
Serving up classic pub food that's as delicious as their drinks, locals love Ed's for its friendly and community-driven atmosphere. They also host events and have specials depending on what day of the week you drop by. Bring your friends, as this is the perfect place to catch one of the many featured sporting events while dining.
Comet Grill
Comet Grill
is a hidden gem located a few blocks away from the main downtown area. The grill has some fantastic burgers and is a great place to try a local beer. But what separates Comet from every other burger and beer joint is the nightly live music.
Comet Grill is the best place to see up-and-coming local acts from the Charlotte area. From the blues to bluegrass, nearly every major music genre can be heard at Comet Grill. Their live music lineup changes frequently, so be sure to check their Facebook page if there is a specific artist you're looking for.
Ready to move to Dilworth?
These are our favorite ways to have a fun-filled day in Dilworth. If you're in the market for Dilworth real estate, we'd love to
get in touch
. Eric Layne has called Charlotte home since 2008 and has won several service awards. Whether you're looking to buy or sell, Eric Layne and the team are ready to help you with all your Dilworth real estate needs. Check out
our blog
for more fun ideas in the Charlotte area.