Widely known as the Queen City, Charlotte features popular neighborhoods like Dilworth, Elizabeth, and Myers Park that are full of fun shops, parks, and friendly neighbors. Charlotte is also an excellent place for a foodie as it has plenty of local restaurants throughout both its downtown and its larger metro area. Whether you currently live in a happening neighborhood or plan to be in the area to start looking at neighborhood homes for sale, be sure to put the following eateries on your must-try list.
Stagioni
Located in the affluent Myers Park historic neighborhood just south of downtown, Stagioni is an Italian restaurant that combines old-world recipes and furnishings with modern culinary sensibilities. Guided by the steady hand of chef-owner Bruce Moffett, Stagioni delivers seasonal menus of new Italian dishes that make good on the restaurant's cognomen, "The Four Seasons of Food." Come for signature dishes like wood-fired pizza and be prepared to spend the evening sipping wine amongst Stagioni's glowing red interior.
The Crunkleton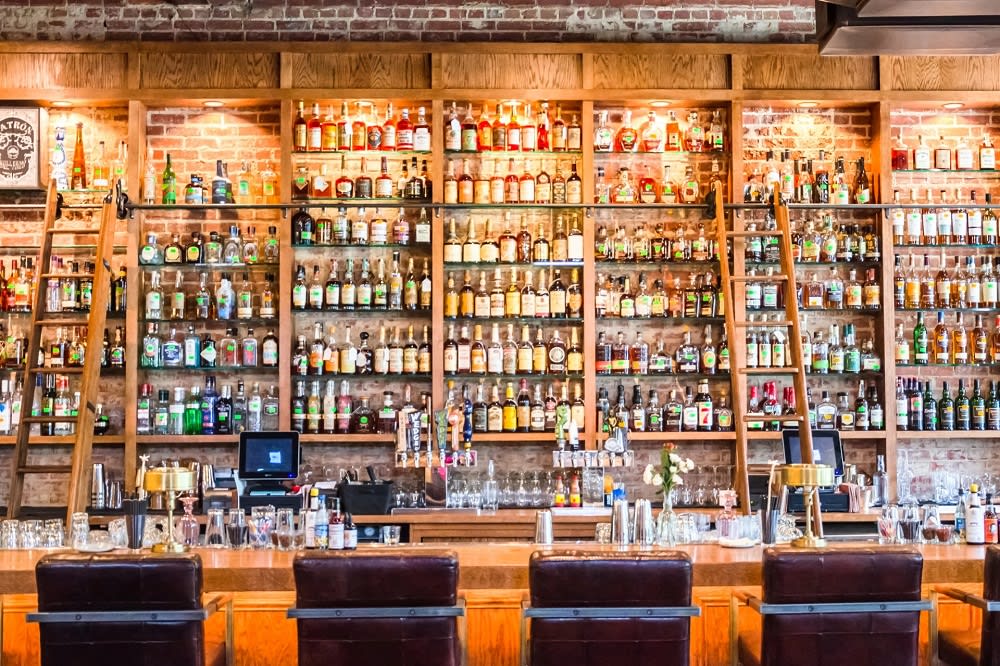 With two locations (the original is in Chapel Hill),
Crunkleton
is a favorite of Elizabeth residents who want to experience a classic cocktail while their dinner cooks over an open fire. If you do wish to experience Crunkleton, keep in mind that it's a private club that is only open to members and guests of those members. However, membership is a mere $10 for an entire year, so it's well worth the tiny investment if you own Elizabeth real estate and live in the area.
Once you're a member, you can enjoy dinner every night of the week in addition to weekend brunch on Saturdays and Sundays from 11 a.m. to 2:30 p.m. Dinner menu options include crispy calamari, sweet potato gnocchi, and lamb stroganoff, and brunch is full of favorites like warm cinnamon sticky buns, French toast, and huevos rancheros. Your brunch can be accompanied by Mai Tais or an espresso martini, while dinner is always better with a Dark & Stormy, Sazerac, or Barrel-Aged Rye Manhattan.
Steak 48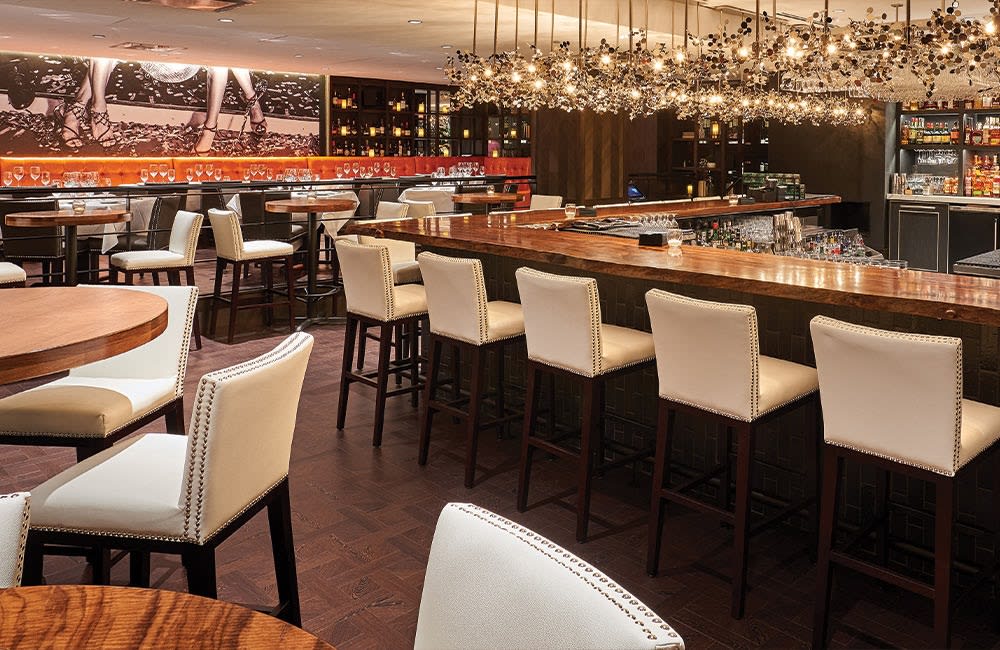 Experience fine dining at its best when you make a reservation at
Steak 48
, Charlotte's premier steakhouse. If you plan on venturing into the SouthPark neighborhood to dine at Steak 48, make sure you dress up as the venue enforces a strict dress code. This adds to the elegant ambiance and will make your dinner more enjoyable.
As far as the menu goes, you can expect to dine on lobster rolls, fresh seafood towers, and steaks that are responsibly farmed and wet-aged for 28 days. You'll also be able to choose from an extensive drink list, including wine, specialty cocktails, bourbon and whiskeys, and tequila and cognacs.
The Goodyear House
Want to partake in a delicious dinner in a casual atmosphere while in the NoDa (short for the main street, North Davidson) neighborhood? Head on over to
The Goodyear House
, a charming little eatery that focuses on the farm-to-table fare and numerous vegan dishes. Those who are meat-free can indulge in smoked cashew mac n' cheese or fried brussels sprouts, while those avoiding gluten can choose from Pork & Peas or NC trout Almondine. Drinks are also on the menu, favorites of which include Ghost of Holidays Past (tequila, passion fruit, demerara, lime, and jalapeno), a wide array of craft beers, and plenty of assorted wines.
Alexander Michael's
A humble little neighborhood tavern that does not take reservations,
Alexander Michael's
has long been a favorite hang-out spot for those local to the historic Uptown Fourth Ward as well as residents of other nearby neighborhoods. Located in a historic building that operated as The Berryhill Store in the early 1900s, Alexander Michael's opened as a bar in the 1980s. Featuring a solid oak bar and a back bar originally in Charlotte's first skyscraper, the tavern aims to serve beer, drinks, and simple, well-prepared food served by a friendly staff. Stop in for lunch or dinner Tuesday-Saturday to try out their spicy crab soup, London Broil sandwich, vegetarian pita, or honey chicken pasta.
Fin & Fino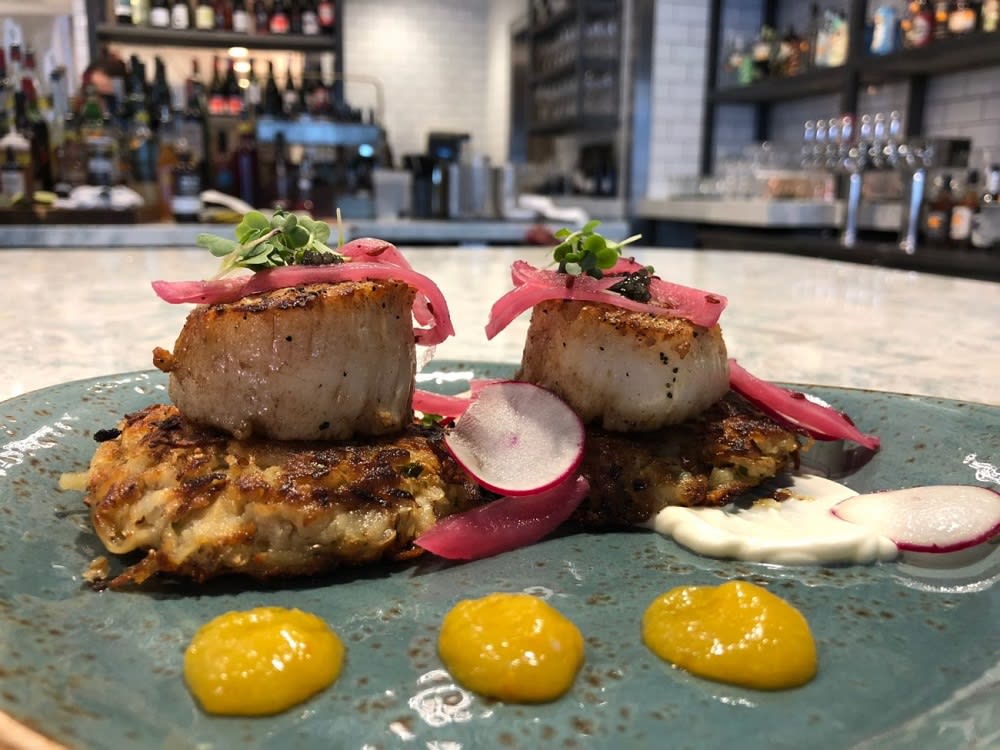 Who can resist a restaurant touted as a "social seafood house?"
Fin & Fino
, described on their website as serving good for those with an explorer's heart, focuses on a menu that gets its inspiration from the maritime cultures of the Atlantic. When you visit Fin & Fino in the Uptown First Ward, get your fill of oysters, shrimp, ahi tuna, lobster, and other options like lamb rigatoni and duck breast. If you want to go all out, order The Treatment. This option costs $65 and lets your server and chef treat you to their favorites on the menu, with $5 of the cost going toward your favorite charity.
Lang Van
If you're in the Plaza-Shamrock area to look at real estate and want to end your day of house shopping on a spicy note, make plans to head to the Vietnamese restaurant
Lang Van
. A family-owned business with a beautiful story, Lang Van serves the area's best pho, flat noodles, yellow pancakes, and fresh vegetarian dishes. Open for lunch and dinner every day except Monday, Lang Van is a true treat.
Noble Smoke
You can't live in or visit the south without getting some authentic southern BBQ, and there's no better place in Charlotte than
Noble Smoke
. Carrying on the traditions formed from Texas to the Carolinas, Noble Smoke cooks more than 1200 pounds of premium meats in their custom-made smokers daily so that you can enjoy pork, brisket, and chicken alongside pan-fried green beans, pickled beets, and succotash for lunch or dinner. Located on Charlotte's westside, Noble Smoke also has a full drink menu with wines by the bottle or glass and cocktails.
Leah & Louise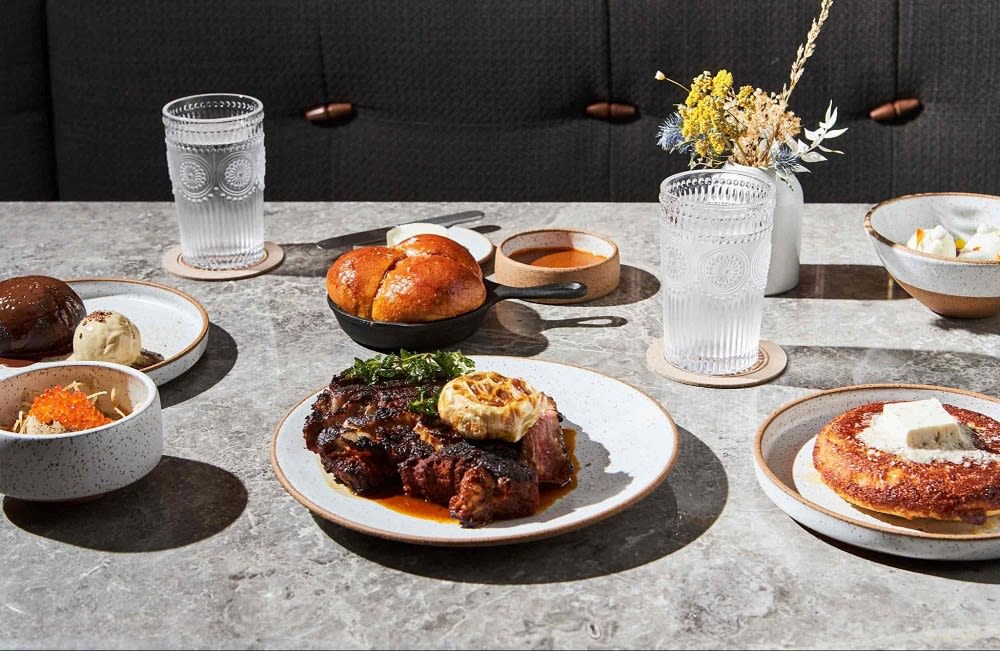 A retro restaurant reminiscent of a juke joint,
Leah & Louise
serves some of the city's most creative and modern dishes. Those who own Myers Park homes, or property closer to this restaurant's site in the Camp North End venue, like to come for the Wabbit Season (smoked rabbit, country captain, grits, almond raisin crumble, and shaved carrots), Say It Witcha Chest (pheasant breast with chestnut polenta and arugula salad), and The Other Cheek (beef cheek, apple conserve, and pickled butternut squash served with rye cornbread.) Don't forget to start your meal with one of the restaurant's signature cocktails — the Grape Drink is a crowd favorite.
O-Ku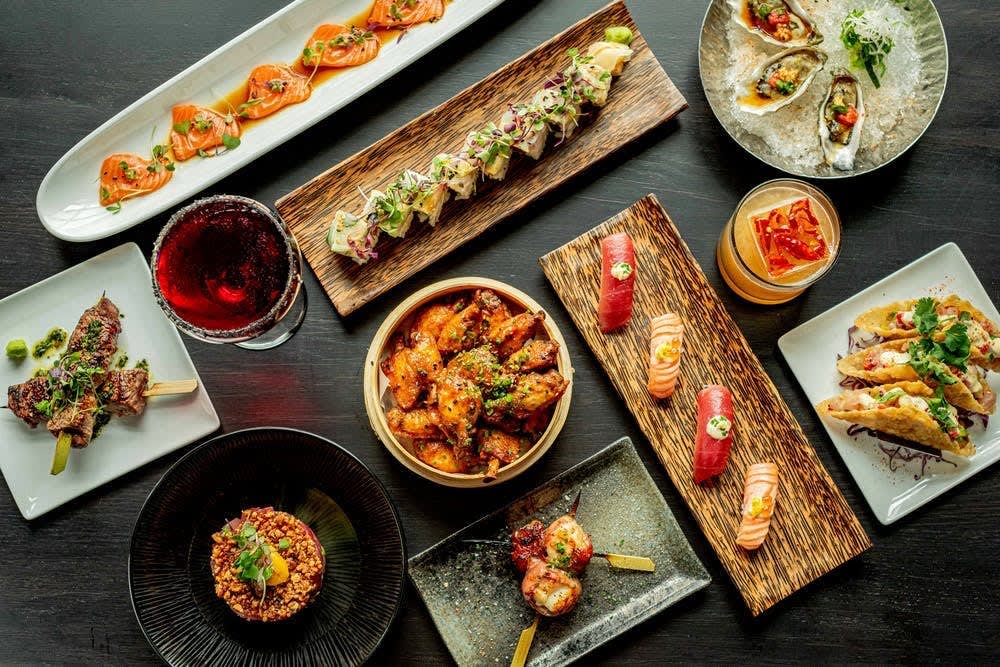 Sometimes a light sushi meal is what you want when running around town looking at Charlotte real estate. If this applies to you, head on over to
O-Ku
in Charlotte's commercial South End for dinner or Sushi Happy Hour from 4 to 7 p.m. on Monday, Tuesday, or Wednesday. Start with the duck buns and choose some signature rolls like the salmon and lemon roll, potato roll, or Hot & Heavy Roll. Pair your dinner with some premium sake or a craft cocktail like the Pinky's Out (Blanco tequila, pink peppercorn, grapefruit, lime, bitters).
Soul Gastrolounge
How could you say no to apps like Dirty South nachos, Asian glazed pork belly tacos, and southern fried oysters? These are just some of the tempting starters you'll get to choose from when you visit
Soul Gastrolounge
in Charlotte's one-of-a-kind Plaza Midwood neighborhood. But wait, there's more — much more. The restaurant's menu includes sushi, skewers, innovative salads (the Guacamole Stack is quite popular), wings, sandwiches, and more. This is the go-to spot for those who want a fantastically original meal.
Seoul Food Meat Company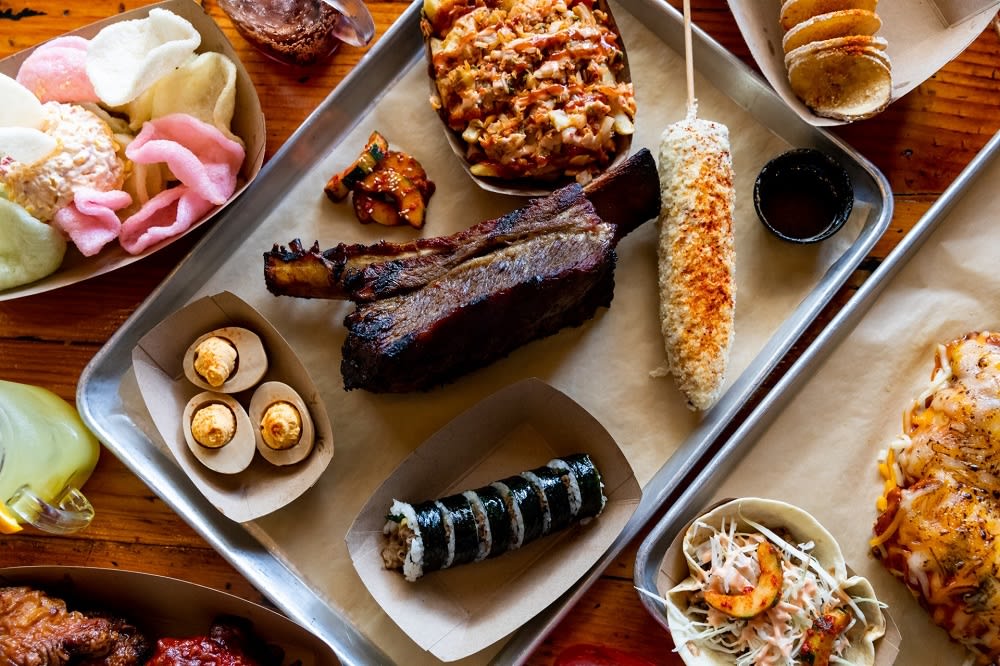 When you want some soul food with a twist, head to
Seoul Food Meat Company
. Think fusion tacos, Doenjang collard greens, Sriracha cracklins, dirty white rice, and bao buns. Pair your culinary delight with a local beer, specialty drink like the Lychee-Tini, or a bottle of soju.
Seoul Food is another restaurant situated in the South End neighborhood. No matter what you like to eat, you'll find the perfect place when you live in Charlotte. Are you ready to start looking for homes? Reach out to trusted local agent
Eric Layne
for assistance.